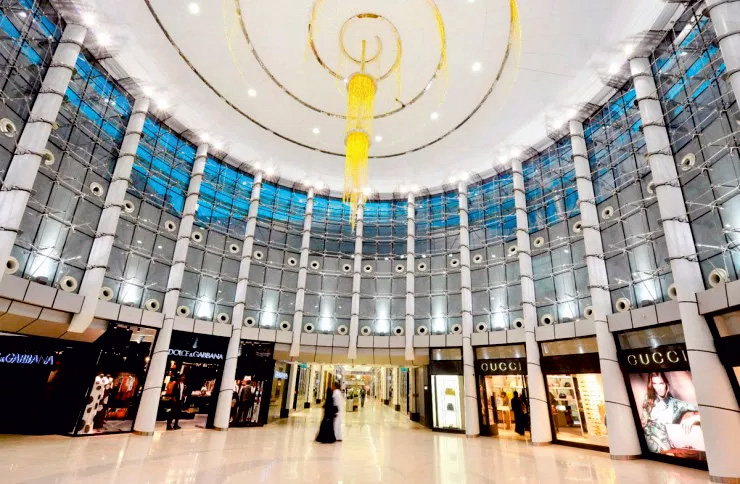 MODA Mall is a shopping and dining experience for every occasion, located in the landmark Bahrain World trade center. At Moda Mall everyone can feel exclusive with the largest portfolio of luxury brands in the Kingdom of Bahrain under one roof. With a proud heritage of elegance, the mall owes its origins to the former Sheraton Complex.
The Mall offers shoppers accessible exclusivity and is home to a wide range of elite brand name boutiques a number of which were previously unattainable in the Kingdom Of Bahrain. It houses the largest luxury brand portfolio of international designers with over 80 fashion labels on offer.
Some of the boutiques housed in the mall include Louis Vuitton, Emporio Armani, Dior, Fendi, Versace, Bottega Vaneta, Gucci, Ermenegildo Zegna, Hermes, Kenzo Women, Burberry and Al Othman showcasing haute couture and ready to wear offerings.
In the dazzling Jewellery court, shoppers will be stunned by jewels from some of the world's leading jewelry suppliers. The mall has the largest fine Jewellery portfolio attainable in anyone venue in the Kingdom, with over 50 brands on offer which include Cartier, Van Cleef & Arpels, Piaget, Chopard and De beers.
Complementing the retail offering, there is a range of exciting and exquisitely appointed restaurants ranging from fine dining at BICE to quick bites at Subway. Browsers can also relax with friends in the range of cafes, including Caribou and Shai Latte in the fashion Court.
Designed by international architecture experts, Atkins, Moda Mall's elegant atmosphere, world class architecture, cool marble interior, glass domes and wide corridors make shopping and dining a pleasure. Moda Mall is home to two beautiful domes known as the Fashion and Jewellery Courts, through which natural light floods the mall.
In addition, there is a host of other amenities all providing shoppers with a unique experience such as a fitness center. Beauty salon, banks, a convenience store and a business center. Moda mall spans approximately 16,500 square meters offering plentiful parking shared with BWTC with 1,700 spaces available for free for Moda Mall customers.
EMCO carried out all the Electrical, Air-conditioning, Mechanical and Honeywell BMS systems supply and installation works.